Skip to Content
Sales Gravy & Welch Team Partner to Bring You an Amazing 2 Day Training Event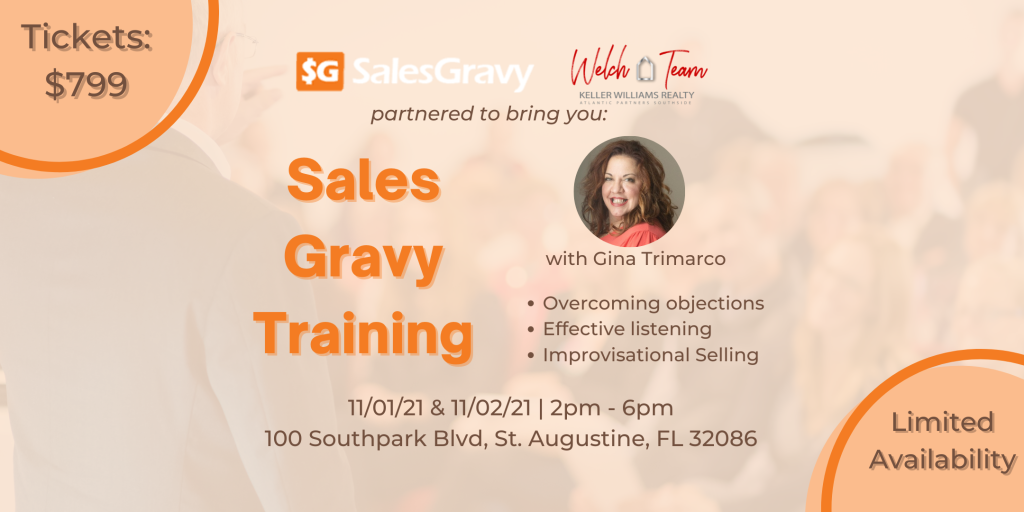 About this event
Welch Team has partnered with Sales Gravy to bring you an amazing 2-day training event!
Not sure who Sales Gravy is?
At Sales Gravy, their mission is simple: They help sales organizations, sales leaders, and salespeople win.
Their team of sales trainers, coaches, and advisors leverages their proven sales training and sales enablement system to help sales organizations become more agile, accelerate sales productivity, and gain a decisive competitive edge.
With the help of Gina Trimarco, we will be learning effective listening, how to overcome obstacles and improvisational selling.
Gina is a master sales improv trainer and leadership strategist who helps organizations re-humanize relationships through Improvised Intelligence™ (improv-based emotional intelligence). She has dedicated her career to helping people learn to become more agile communicators through the power of improv.
Don't miss out! Seating is limited. Get your ticket today!
Event Details
When: Join us on November 1st & 2nd from 2 pm to 6 pm each day.
Where: Keller Williams Atlantic Partners St. Augustine
100 Southpark Blvd
St. Augustine, FL 32086
Tickets: Limited availability $799.00 per person